At Monte Design, our goal is to produce well-made, design-driven products created from sustainable & high quality materials that are manufactured in a responsible way. We aim to minimize the impact our products have on our planet and our indoor air environment.
GREENGUARD Gold Certified | Made-to-order | Handcrafted in Canada
Here are several steps we have taken to make our products better for your health and for the environment:
Monte Design is GREENGUARD Gold Certified
GREENGUARD GOLD Certified means that our furniture has been rigorously tested for thousands of chemicals and Volatile Organic Compounds (VOCs). Greenguard Gold means our products have passed strict criteria and are scientifically proven to have low VOCs so that you and your family breathe in cleaner and healthier air.
Read our latest blog on Healthy Living
EXPLORE OUR COLLECTION
CERTIFIED FOAM
Our foam is locally manufactured in part from natural seed-based oils such as soybean, decreasing the dependence on fossil fuels like petroleum and ultimately lessening greenhouse gas emissions. It is halogen free and free of mercury, lead and other heavy metals. It does not contain any CFC's, PBDE's or TDCPP (Tris), and our foam is free of any harmful flame retardant chemicals (FR's).
Our foam is high density (average 2.5 lbs), high grade and low emission (low VOC). This ensures that it maintains its strength and durability over many years while having a low impact on the air you breathe. For additional information on our foam please visit www.certipur.us.
QUALITY FABRICS
All of our fabrics and threads are manufactured according to Oeko-Tex Standard 100, meeting globally uniform and scientifically-based test criteria. This standard ensures that no hazardous chemicals are used in the manufacturing process. www.oeko-tex.com
In addition to our very durable performance fabrics, we also offer all-natural, Italian-made wools and cotton-linen fabrics. Our fabrics do not contain any highly fluorinated chemicals and are free from any solvents or VOCs, PFOS, PFOA, formaldehyde, heavy metals or phthalates. Our fabrics are Oeko-Tex Standard 100 certified and/or REACH compliant.
PREMIUM WOODS AND GLUES
All our woods are sustainably sourced, and our wood suppliers actively re-plant trees for each one harvested. We use woods that are certified by the FSC (Forest Stewardship Council), which means the forestry companies are independently audited to meet the FSC's strict forest management standards for being environmentally responsible. The wood we use meets the requirements of the LEED Rating System for wood adhesives (no urea formaldehyde added), and the glue used in frame construction is water-based, biodegradable and made in Canada.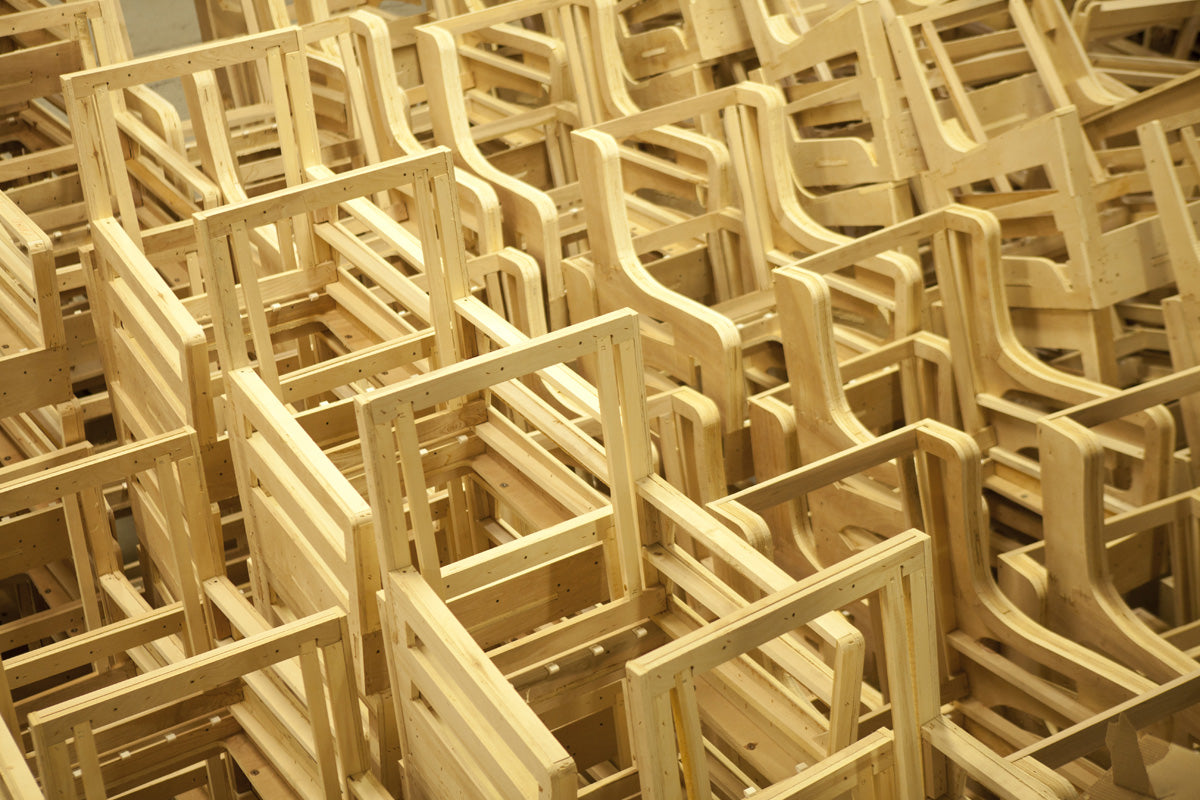 PATENTED GLIDING MECHANISM
Our patented gliding and reclining mechanisms are made of 95% recycled steel and are free of lead-based paint or finishes. The mechanisms are made with low-solvent, water-based paints and no-solvent powder coating materials, thereby reducing or eliminating solvent air emissions and solvent waste.
RECYCLED PACKAGING
As part of our ongoing commitment to sustainability, we have sourced boxes that are made in Canada from 100% recycled paper. Compared to paper packaging products made from virgin fibres, choosing recycled packaging not only saves trees, it also saves water and energy, reducing greenhouse gas emissions.
MADE IN CANADA
All our products are custom-made in our local Toronto warehouse to ensure high quality and customer satisfaction.
CONSCIENTIOUS CHOICES.
RESPONSIBLE MANUFACTURING.
SUSTAINABLE PRACTICES.
Monte Design is committed to creating healthy, beautiful and purposeful furniture that you can feel great about owning.